Military and Absence Policy
Legacy has been around a long time and has practically seen it all when it comes to why someone cannot show to a raid or event. In order to prevent drama and make it clear to members, we have a set policy for absences for all types of scenarios. 
Legacy schedules events usually a week out, which are shown on our calendars. Depending on the type of event, you may or may not be able to RSVP via a Discord bot or spreadsheet. If at any point you are able to RSVP but are not 100% sure you can attend, we recommend to our members you do not RSVP at all in the first place. We would rather be pleasantly surprised if you are an extra soldier out of nowhere rather than being short.
For events where we expect all members to attend (all-calls, sieges, etc) the following tips are recommend to avoid issues:
Identify who your "Team" Leader is. This could be your Squad Leader if you are involving yourself with PvP, or a Logistics leader. Other similar positions apply – in general you should always have an "immediate" superior. In general most members should know who this is. If you are new, just ask.
Do not send a PM to the guild leader or upper leadership – these will almost always go ignored and effectively won't count.
Give at least 24 hours notice.
Never give details. We are not your parents. You owe nobody in our guild or otherwise the reasons you cannot play video games.
Remember real life comes first. There will never be a scenario in which you are judged for having to be absent to events. In fact, if you're skipping raids or in-game events for that hot date, family time, or similar – you kick ass.
Be concise and short. Many tiers of leadership are dealing with numerous other issues. The quicker and to the point you are, the better.
The amount of absences and frequency are irrelevant to Legacy as a whole. We support parenting moms and dads as well as those working crazy hours. What is important to us is that you let us know. Special exceptions apply for certain groups, such as dedicated raid teams or siege PvP teams. In those scenarios you usually will agree to an attendance policy tailored to those groups well-before you join.
Military Deployment and Leave Policy
Over the 10+ years Legacy has been running guilds in MMOs, we have had the special privilege of seeing our roster members sign-up for the Armed Forces, deploy to amazing places around the globe, and come back in glorious fashion. We have a special place in our hearts and roster for active-duty and veterans alike, and are a bit guilty when people say we give them special treatment. Our Military Absence Policy was established in 2014 due to many veteran members of our deploying overseas in Iraq and Syria. The main concern was to make sure that not only are the members of Legacy given our best wishes, but a fantastic return.
Military Members of Legacy the day they join are effectively "enrolled" in our Military program for any major chapter we are playing or planning to play. This program is accepted as a base SOP for all members, including those not actively deployed/deploying. It states that members of Legacy who have to take extended absence due to deployment (or similar) not only retain all ranks and progression within Legacy on their return, but are given a "bonus" for supplies and gear in-game to catch them up to the rest of the guild on a median level. In historical practice this has meant we look at the gear levels of everyone in the current MMO and average them out. Once averaged (and after celebration) we pitch in from the guild banks to expedite the returning member up to current gear standards. We then have volunteer sessions scheduled to "speed run" in whatever content is deemed necessary. 
In years past from Archeage to Black Desert Online, we made it a strong point to make sure the phrase "No Gamer Left Behind" was known well. It has even been passed along to other friendly and allied guilds of ours and to this day they also have adopted similar policies which is awesome to us.
Final notes on our Military Leave Policy:
You do not need to show credentials. We respect your right to privacy.
When discussing the dates you are leaving, do not be specific. In many cases this in itself is a security issue. Be broad, and let us know for example "I might be gone sometime this summer".
Do not give the location of deployment. See above, same principle applies. It is not our business and in our opinion should not be discussed with anyone on the internet.
Lastly, remember we got your backs, especially when you return. Kick back and relax with us again in-game – we're gonna hook you up.
Read Other Articles on Legacy Guild Features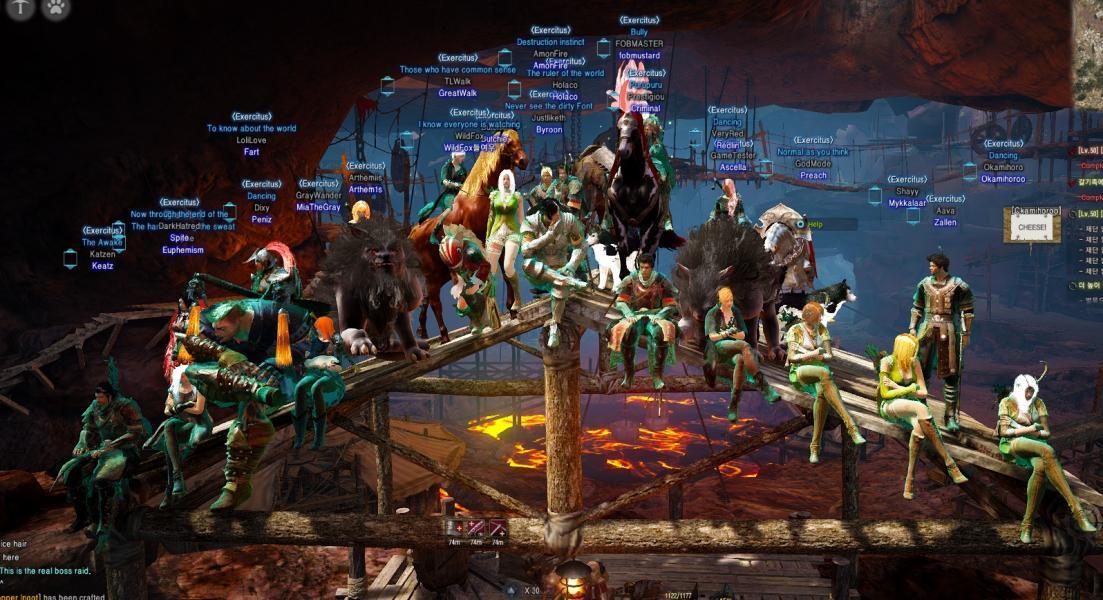 Squads in Legacy The Legacy squad system introduces new ways for community members at large to interact with each other in a way that is
Read More »